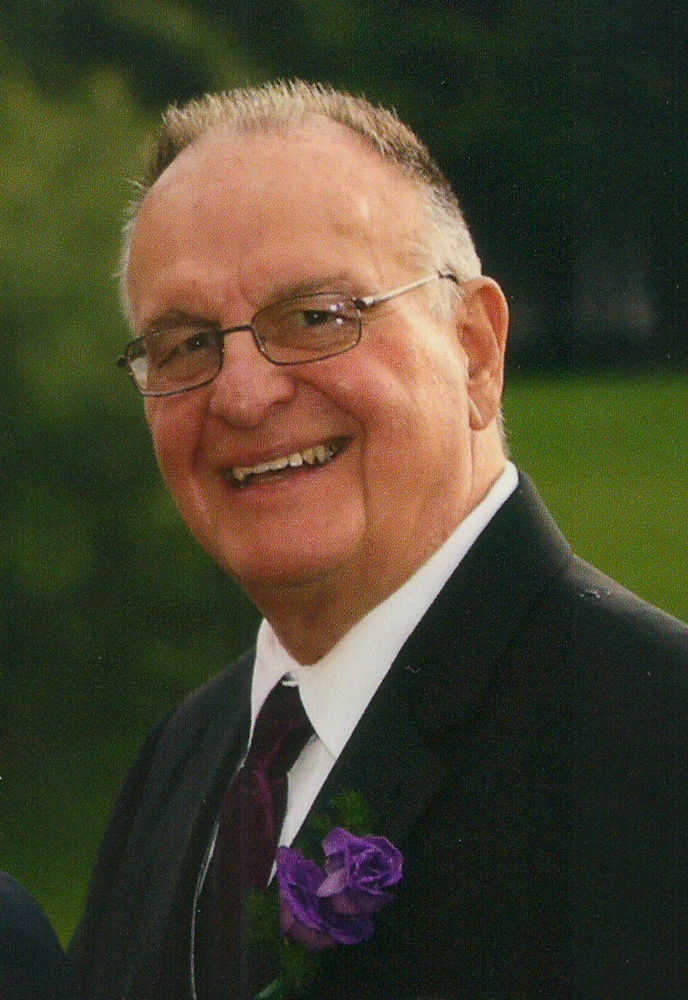 Obituary of C. Edward Hindle
Sparta– C. Edward Hindle, 81, well known area funeral director and former Mayor of the Village of Dansville passed away late Tuesday evening July 3, 2018.
He was born on August 30, 1936, in Waterloo, NY, the son of Charles E. and Lillian Richardson Hindle, on August 20, 1960, he was wed to JoAnn Ashbaugh of Seneca Falls, NY.
Ed graduated from Waterloo Central School where he was President of the Class of 1954. He attended Alfred State College and later was a Dean's List graduate, Class of 1957 from Simmons School of Embalming and Mortuary Science in Syracuse, NY. Following graduation, he served his apprenticeship with Leo F. Kearns Funeral Home in Queens, NY. Upon receipt of his license to practice funeral directing, he was employed at Sanderson Funeral Home in Seneca Falls moving to Dansville in 1966 to become a partner with Walter E. Baird of Wayland at Baird Funeral Home in Dansville. Ed soon bought Mr. Baird's portion of the business and operated as Hindle Funeral Home for many years until his retirement in 1995 when his son, Carl and his wife Lisa, assumed operation of the business.
Ed served as a member of the Session of the Presbyterian Church in Dansville and Waterloo where he had served as Clerk of Session. He attended the Countryside Christian Center at his winter residence in Clearwater, FL. He was a devoted member of the Sparta Center United Methodist Church after Ed and JoAnn moved to their home on the hill in Sparta.
Active in community affairs, Ed was a member and past secretary of James H. Jackson Hose Co. and was the treasurer of the WNY Volunteer Fireman's Association Convention in 1969 and 1980. He was a former member of the Village of Dansville Planning Board, the Water and Sewer Commission and served as Mayor of the Village of Dansville from 1971 – 75 also serving as Vice President of the Livingston County Village Boards Association. He was a former Chairman of the Dansville and Livingston County Republican Committees.
He was a former member of the Board of Directors of the Dansville Chamber of Commerce, the Clara Barton Chapter #1 of the American Red Cross, the former Dansville Hospital Board, the United Fund Committee, the Dansville Little League and was president of the former Dansville Jaycees. He was a past president of the Dansville Lion's Club and was the director of the first of many Lions Minstrel Shows.
Ed and his loving wife, Jo, enjoyed winters in their home in Clearwater, FL since 1995 where Ed served as President of the condominium association. They enjoyed traveling, especially with their 5 grandsons on a trip out west to Colorado in 2001 and Washington DC in 2002.
Survivors include a son Carl (Lisa) Hindle of Dansville, three daughters Casey (Lewis) Bickle of West Sparta, Jennifer Inman of Chittenango, and Susan (John) McBride of Poughkeepsie, seven grandsons, Eric (Amanda Emke) Hindle, Christian (Leanne) Hindle, Cyle Hindle, Andy Bickle, Josh Bickle, Sonny McBride, Jake Inman, two granddaughters, Skyler McBride, Jessica Inman. Two great grandchildren Logan and Madelyn, a sister, Inez M. Alkire of Carson City, NV, a brother-in-law, R. Terry Walsh of Fort Collins, CO. Several nieces, nephews and cousins. Ed was predeceased by first born son Charlie in 1968, a sister Arlene Walsh in 1994, and his beloved wife JoJo on May 25, 2016.
Friends may call Friday, July 6, from 4:00pm to 7:00pm at the Hindle Funeral Home Inc. 271 Main St. Dansville. A funeral service will be held at the Dansville United Methodist Church on Saturday at 11:00 am. Interment will be in Union Cemetery in Scottsburg. Online remembrances may be left at HindleFuneralHome.com.
In lieu of flowers please make memorials to Carl and Ann Myers Cancer Center at Noyes Memorial Hospital or the Dansville Public Library.
Calling hours
4:00 pm - 7:00 pm
Friday, July 6, 2018
Hindle Funeral Home Inc.
271 Main St.
Dansville, New York, United States
Funeral
11:00 am - 11:45 am
Saturday, July 7, 2018
Dansville United Methodist Church
5 Chestnut Ave.
Dansville, New York, United States
585-335-5663