Carl is a graduate of Dansville Central Schools and Simmons School of Mortuary Science in Syracuse and served his internship with Greenleaf Funeral Home in Syracuse prior to entering the family business in April of 1988. Carl is an Elder at the Dansville Presbyterian Church, a member and Past President of the Dansville Lions Club, a member of the Dansville Fish and Game Club, a former Cub Scout Leader, Little League Baseball Coach, Youth Soccer Coach, a former school bus driver for the Dansville Central School District and is the owner of the Eagle Laundromat in Dansville.
---
Lisa Rowe Hindle, the daughter of Herbert and Jewel Runge Rowe works with Carl in the day to day operations of the funeral home and is also a licensed cosmetologist.
---
Christian has graduated Simmons School of Funeral Science. In July 2012 he became a third generation licensed funeral director. He is following in his Grandfather and Father's footsteps. Christian got married in 2016 and bought a house in Ossian.

---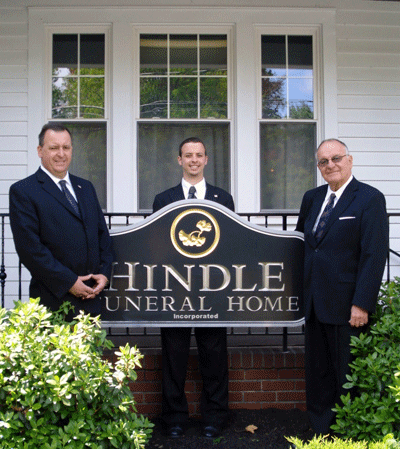 Three generations of Hindle (L to R): Carl, Chris, and Ed