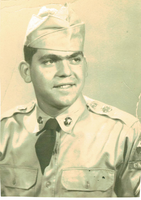 William George "Bill" Jamison Sr.
Dansville- William G. "Bill" Jamison Sr., age 79, passed away early Tuesday afternoon January 22, 2019, at Rochester General Hospital following a brief illness.
He was born in Wayland on April 11, 1939, a son of the late Ross and Mary (Rowe) Jamison. He was also predeceased by a grandson Johnathon Daniel Jamison and siblings, Susie Rowley, Frank, James and Robert Jamison. On August 13, 1966, he was married to the former Rosemary Holbrook Jamison who survives.
Bill was employed as an equipment operator at Akzo-Nobel Salt in Retsof for thirty years retiring in 1995. He was a member of the Hook and Ladder Company of the Dansville Fire Department and was a former Fire Police. He was a member of the Loyal Order of the Moose # 1130, the Powers Inn Club and a former volunteer for the Dansville Ambulance Company. In his free time, he enjoyed driving his golf cart to visit with friends and being a good neighbor to all.
Surviving in addition to his devoted wife Rosemary, are a son William G. "Billy" (Naomi) Jamison Jr., two grandsons, Jim and Max Jamison, two sisters Jean Holbrook and June Andrews Gilbert and several nieces and nephews.
Friends may call Friday from 10:00 am to 12:00 noon at the Hindle Funeral Home, Inc. 271 Main St. where a funeral service will be held at the completion of calling hours. Interment will be in Oak Lawn Cemetery, West Sparta. Online condolences may be left at HindleFuneralHome.com.
In lieu of flowers please make memorials to the Dansville Ambulance Fund of the Livingston County SPCA.