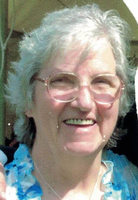 Barbara Helen Vincent
South Dansville- Barbara H. Vincent age 84, passed away early Friday morning November 2, 2018 at Elderwood Nursing Home in Hornell.
She was born in Jamestown on November 13, 1933, the daughter of the late Byron and Flora (Fuller) Simmons. On June 2, 1956, she was married to Sherwood Vincent who predeceased her in 2000. She was also predeceased by a son Paul Vincent; a son in-law Sam Repass and a brother Bryon "Tex" Simmons.
Barbara was a former member of the Priscilla Chapter of the Order of the Eastern Star of South Dansville. She was formerly employed at Nichols in Hornell. In her free time she enjoyed organic gardening.
She is survived by three daughters Phyllis (Andy) Honious, Sue Frazier, and Teresa (Mark) Repass, six grandchildren and fourteen great-grandchildren.
Friends may call Wednesday from 5-8 pm at the Hindle Funeral Home, Inc. 271 Main St. Dansville, where services will be held Thursday at 11:00am. Interment will be in Arkport Cemetery. Online condolences may be left at HindleFuneralHome.com
Memorials may be made to Fremont Ambulance Service or the American Cancer Society.