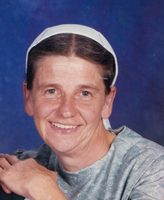 Cathy Ann Lubic
Canaseraga- Cathy Ann Lubic age 64, passed away Sunday afternoon at her home surrounded by her family.
She was born on March 16, 1954 a daughter of the late Robert and Victoria (Shutt) Slanker. She was also predeceased by her brother Gary Slanker. On Jan 13, 1980 she was married to Terry Lubic who survives.
Cathy was a devote Christian women occasionally lending a hand to her husband Terry on their farm.
Surviving in addition to her husband of 38 eight years are her children, Jonathan (Fannie) Lubic, Jessica (Dustin) Knoll, her sister, Cindy (Rick) Christine, her brothers, Robert Slanker, Thomas (Deborah) Slanker, Joel Potts, and Doug Drawbaught, 8 grandchildren, several nieces and nephews.
Friends may call from Friday October 26, 2018 11:00am to 1:00pm at the Hindle Funeral Home Inc. 271 Main St. Dansville, NY 14437. A funeral service to follow at 1:00pm. Online remembrances may be left at HindleFuneralHome.com
Memorial Donations may be made to Christian Aide Ministries PO Box 360
Berlin, OH 44610