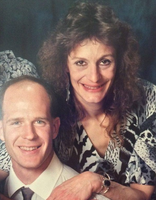 Amy Berger
Amy Berger (Beierschmitt) of Mount Morris passed away peacefully on December 11, aged 60, surrounded by her family, after a long battle with COPD.
A Dansville native, Amy was a childcare provider and home health aide before committing her life to raising her own family with Scott Berger. As a stay-at-home mother, Amy was a dedicated parent, and very involved during multiple athletic, prom, Close Up, band, choral, and theatrical activities at MMCS.
Amy was born on May 7, 1957 in Rochester to Bill and Mary Lee Beierschmitt, then of Greece. The second daughter of four, Amy was precocious, energetic, and adored by everyone who knew her. In 1970 the family moved to Dansville, and Amy's warmth and humor reached a widening circle. She welcomed her son William in January of 1977, parenting with independence, gumption, and the strongest maternal instinct imaginable.
She married the love of her life, Scott Berger, on January 30, 1988. That same year they would welcome their daughter Ashley, the first of three in just four years.
Love was the driving force in Amy's life. Though modest and humble, Amy was cherished by all with an adulation that few deserve. With a listening ear and without judgment, Amy provided a sounding board and boundless support to all in need. During the academic careers of her children and beyond, Amy provided comfort, shelter, and much more to dozens of "adopted children"—and adults.
Amy is predeceased by her father Bill, and survived by her husband Scott; her mother Mary Lee of Dansville; sisters Karen (David) Crawford of Avon, Lori (Daniel) Milks of Dansville, and Katie (Jeffrey) Kiehle of Hillsborough, NC; children William Eric Beierschmitt; Ashley (José) Berger-Solis, Lauren Berger and Elizabeth Berger; grandchildren Chace Beierschmitt, Antonio Solis-Berger and Scotty Solis-Berger; and many nieces, nephews, cousins and dear friends.
A celebration of life memorial will take place 1-4 p.m. Saturday December 16 at the Grace & Truth Christian Fellowship, 3462 East Groveland Road in Mount Morris. In lieu of flowers, please send donations to Livingston County Hospice, the COPD Foundation or the Pulmonary Rehabilitation Center.