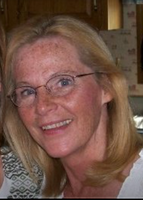 Deborah Jean Folts
Deborah Jean (Alverson) age 64, passed away unexpectedly at Strong Memorial Hospital on Saturday April 7, 2018.
She was born in Dansville on April 6, 1954, a daughter of the late Raymond James and Elma Marie (Arndt) Alverson. On March 28, 1978 she was married to Samuel Folts who survives.
Deb worked for years in the NYS Department of Corrections and retired as a Business Officer (Steward) from Livingston Correctional Facility in August of 2011. She traveled the US with Sam by motorcycle, visiting many famous places such as the Skywalk in the Grand Canyon, the Appalachian Mountains in West Virginia, Bourbon Street in New Orleans, the Riverwalk in San Antonio, and Route 66 in New Mexico and Arizona. She and Sam lived in Dansville and raised a family there, where she enjoyed gardening, quilting, and spending time with her grandchildren. After retirement, Deb spent winters in Southern California, playing shuffleboard, cards, mahjong, reading her Kindle, going on casino trips, and riding motorcycles with friends.
She is survived by her loving husband and companion for 42 years, Sam Folts, children Dan (Noël) Folts, and Samantha (Roland) Gabriel, and four grandchildren, Sequoia Simons Folts, Silvia Folts, Broton Folts, and Von Gabriel, who were perhaps the greatest joys in her life. She is also survived by a sister, Rebecca (Mitchel) May, and brothers, James, Michael (Mary), Robert (Bonnie), William, and Thomas Alverson.
Friends and family can call on Thursday, April 12, 2018 at Hindle Funeral Home from 4-6:30 pm. At 6:30, there will be time for those who knew her to say a few words of remembrance.
In lieu of flowers, donations can be made to The Dansville Historical Society or the Dansville Public Library.