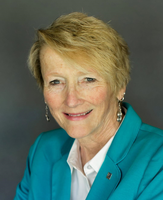 Sharon Harris
Dansville- Sharon Harris age 67, passed away early Friday morning March 9, 2018 at Strong Memorial Hospitail in Rochester after an extended illness.
She was born in Dansville on October 22, 1950, a twin daughter of the late Francis and Dorothy (Kreiley) Henty.
Sharon grew up with a passion for flying. She earned her private pilot license at age 16. She began her career working at the family hardware store and eventually followed in her father's footsteps and became a licensed real estate agent at Henty Realty for many years and most recently worked for Empire Realty of Dansville. Sharon enjoyed working within the Dansville community and was involved with many local organizations which included the Dansville Lioness Club, the Dansville Historical Society, the Dansville United Methodist Church, the Women's Civic Club, the Noyes Memorial Hospital Auxiliary and the Dansville Dogwood Committee. Outside of work, Sharon enjoyed traveling and spending time with her grandchildren.
Sharon is survived by her son Robert (Jill Day) Harris, daughter Hillary (Jonathon) Bennett, two grandchildren, Rylee and Jason Bennett, brother Dean (Josephine) Henty, twin sister Sandra (Nick) Bergquist, nephew Collin (Holly) Henty and niece Courtney (Allen) Scherer.
A funeral service will be held Monday March 12, at 11:00 am at the Foursquare Church on West Ave. in Dansville. Private Interment will be in Greenmount Cemetery, Dansville. Arrangements are by the Hindle Funeral Home, Inc., 271 Main St. Dansville. Online remembrances may be left at HindleFuneralHome.com.
In lieu of flowers please make memorials to the Dansville Public Library, 200 main St. Dansville, NY 14437.