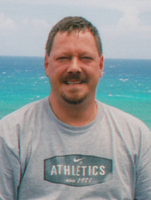 Timothy K. "Tim" MacIntyre
Dansville- Timothy K. MacIntyre age 57, passed away early Sunday morning March 4, 2018, at Strong Memorial Hospital in Rochester.
He was born in Canandaigua, on December 18, 1960, a son of the late Walter L. and Phyllis (Munson) MacIntyre.
Tim was employed at the Fingerlakes DDSO as a therapy aide. He was a member of the Dansville Rod and Gun Club. He enjoyed spending time with his family, fishing, bee keeping at his country property, hiking, gardening, golfing, taking vacations, and watching television.
He is survived by his wife Amy Bovee MacIntyre, a daughter, Morgan MacIntyre, three sons, Tom, Dylan, and Christian MacIntyre, two sisters, Bonnie (Darrel) Rector, and Laurie McMillan, three brothers Scott, David, and Thomas MacIntyre, a grandson Tanner MacIntyre, several nieces and nephews.
A Memorial service will be held on Sunday March 11, 2018 at 11:00 am at the Hindle Funeral Home Inc. 271 Main St. Dansville, NY 14437. Online condolences may be left at HindleFuneralHome.com.
In lieu of flowers please make memorials to the American Diabetes Association.