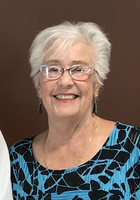 Ellen Hanks Mapes
Sparta- Ellen Rae Hanks-Mapes of Dansville, NY went to her heavenly home on February 20, 2018, surrounded by family and friends in her final days at the Tidewell Hospice House in Bradenton, Florida.
Ellen is survived by her husband of 51 years, David, a son Christopher (Tara) Mapes, a daughter Carrie Ann (Michael) Owen; five grandchildren, Alysa Marie Mapes attending St. John Fisher College, Ethan A. Mapes attending Alfred State College, Elliot Stephen Mapes at home, Frederick C. Owen attending St. John Fisher College, and Oliver Nelson Owen at home. She was predeceased by her mother Loretta Palmer-Hanks and father Frederick Graham Hanks.
Born in Cuba NY on November 14, 1946, Ellen grew up in Friendship NY, graduated from Friendship High School with honors and belonged to the National Honor Society in 1964. She received her Bachelor's degree in Education from Cortland State University College and earned her Master's Degree from Geneseo State University College in 1974. Ellen was an intermediate grade teacher at Ellis B. Hyde Elementary School in Dansville where she spent her entire career of thirty two years. During her career in education Ellen was instrumental in forming collegial groups to manage curriculum, one named the Kapok Hall. She was a consultant to other New York schools for reading programs such as "Whole Language Instruction". In retirement she did consulting work for the Dansville Schools in testing and was a volunteer in several primary grades.
Involved in many community affairs, Ellen was active in the Dansville United Methodist Church where she worked with the church women to provide Rotary Dinners. She also served on the memorial committee and provided support for funeral dinners. Ellen was a ten year trustee of the American Red Cross at the Clara Barton Chapter #1 in Dansville. She was a trustee of the Friends of Letchworth State Park, a member of the Dansville Lions and Lioness clubs, the Women's Civic Club, the American University Women, and a member of the Noyes Memorial Hospital Spice Box Gift Shoppe Staff.
During Ellen's years of service to the Dansville Community she was greatly rewarded when as she retired from active teaching her son and then daughter both took up rolls on the Dansville Faculty teaching intermediate grades and high school math. Touching thousands of young lives in education was the true joy of her life.
A memorial service will be held Saturday May 5 at 11:00 AM at the Dansville United Methodist Church with a reception to follow at the Union Hose Clubroom. Arrangements are by the Hindle Funeral Home, 271 Main St. Dansville. Online condolences may be left at HindleFuneralHome.com.
In lieu of flowers please make memorials to the Vincent House, 310 Second Ave. Wayland, NY 14572.