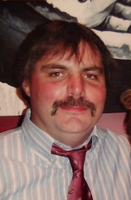 Timothy B. "Tim" Middleton
Dansville- Timothy B. "Tim" Middleton age 50, passed away Sunday afternoon February 18, 2018, at the Livingston County Center for Nursing and Rehabilitation.
He was born in Lackawanna NY on October 19, 1967, a son of Braxton and Marilyn Middleton who survive. On January 28, 1989, he was married to Christine Root Middleton who survives.
Tim was a graduate of Dansville Central School Class of 1985. Tim and his wife Christine are the owners of Middleton's Frozen Custard in Dansville. He was a Civil Engineer for the NYSDOT. He was an avid outdoorsman and member of the Dansville Fish and Game Club, where he was active with the NYSDEC fish conservation program stocking area lakes and streams with fish. In his free time he enjoyed the outdoors, fishing, hunting, boating, and camping.
Surviving in addition to his wife Christine, are three children, Ariel (Tristan) Middleton-Burdick, Braxton (BethAnn) Middleton, and Jedadiah (Brittaney) Middleton, his parents Braxton and Marilyn Middleton, grandchildren, Madison, Kendall, Dakota, Madelyn and Holden.
Memorial celebration will be held at the Dansville Fish and Game on Wednesday February 28 from 3:00 to7:00 pm. Online remembrances may be left at HindleFuneralHome.com. Ref. Hindle Funeral Home, Inc. 271 main St., Dansville, NY 14437.
In lieu of flowers please make memorials to the Dansville Fish and Game Club, Hunter safety Program.