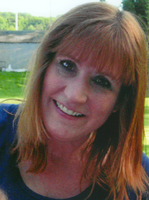 Kerin Marie Ebert
Kerin Marie Ebert age 55, passed away early Tuesday morning February 13, 2018, at Noyes Memorial Hospital surrounded by her loving family.
Kerin was born on December 11, 1962, a daughter of Bob and Evelyn (Montgomery) Fronk. On July 8, 2000, she married the love of her life Craig Ebert who survives. Kerin was predeceased by her father Bob Fronk and her brother Gerry Fronk.
The most important things in Kerin's life were the devotion of her husband, being surrounded by her children, her grandchildren and her sister Cathy who our family is beyond grateful for her humble care and compassion. Cathy allowed Kerin to retain her independence and fun spirit.
Kerin was a member of the Moose Club in Dansville where she enjoyed spending time with her many friends. Kerin took everything cancer threw at her and kept going. It never broke her spirit, her zest for life or her devotion to her husband, children, grandchildren and her beloved dogs Bonsai and Zoey.
She is survived by her husband, Craig Ebert, her children, Heather (Shannon) Austin, Adam (Kristy) Ebert and Terra Ebert, her mother, Evelyn Fronk, her sisters, Cathy (Bob) Lafollette and Cherri (Dave) Mauro and brother, Kevin (Colleen) Fronk as well as many nieces and nephews.
A celebration of life will be held at the Moose Club in Dansville on Thursday Feb. 15, 2018 from 1-4.
In lieu of flowers, memorials may be made to the Wilmot Cancer Center or
Autism Speaks.