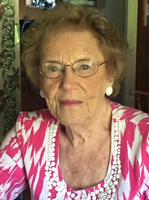 Mary Ellen Rauber
Dansville-Mary Ellen Hunt Rauber, age 94, passed away Friday evening, January 19, 2018, surrounded by her family at her home on East Hill.
Mary Ellen was born in Skaneateles, NY, on June 20, 1923. She was the daughter of Bert and Gertrude Hunt. She was also predeceased by 3 brothers, Daniel, Bert, and Bruce Hunt. Her devoted husband Tom (Big Da), passed only 23 days prior to her passing and their love story continues.
After graduating from Skaneateles High School, she received her Bachelor of Science and Business Administration and Business Education Syracuse University. She obtained her Master's degree in Guidance and Counseling at Alfred University. She did graduate work at Nazareth College in Rochester, State University at Albany, Geneseo State University College and at Syracuse University. She was named New York State Business Teacher of the year in 1983. Other professional affiliations were Delta Kappa Gamma Society International, Eastern Business Education Association, GVTA, National Business Education Association and the New York State Occupational Education Association. Mary Ellen was a consultant to the State Education Dept. writing regents for years and co-authored two successful grants, as well. Other ways she contributed to her community were serving as a communicant of St. Mary's Church, a member of St. Mary's School Board of Education and the steering committee for the church. She was an active member of Noyes Memorial Hospital Auxiliary and Delta Kappa Gamma.
Mary Ellen is survived by the large family, she loved so dearly. Children, Thomas (Judy Ann) Rauber Jr., Colleen (Marty Hakker) Askinas, Molly Rauber, Michele "Shelly" (John) Mistretta, Daniel (Barb) Rauber, and Nancy (Brad) Rauber Matthews. Her grandchildren: Cheyne (Annie) Rauber, Michelle (Jim) Nonkas, Brittany (Nick Gordon) Rauber, Tyler Rauber, Lauren (Jay) Gearino, Gus Anderson, Hunter, Skylar, and Tanner Rauber, Olivia and Bradley Matthews. Great grandchildren: Jaxon, Tye, and Drew((Bear) Rauber and Brooklyn Gearino.
God and family were the heart of Mary Ellen and she devoted everyday of her life to both. Summers at her lake cottage with her children, siblings and nieces and nephews were the highlight of each year. They also traveled to Florida for many winters to escape the cold temperatures of upstate NY. She always looked forward to her family visiting them there. Her integrity and non-judgmental heart was a role model for all who were fortunate to know her. Mary Ellen's (Moms) passing will leave a void in the hearts and lives of so many, especially those of her large immediate family of 30 that she leaves behind.
We want to thank the loving angels God placed in our lives. They did not only care for Dad and Mom, they cared for an entire family, enabling us to love and enjoy our parents and allowing them to remain in their beautiful home together until the end.
Friends may call Monday Jan. 22 from 4:00 pm to 7:00 pm at the Foursquare Church, 49 West Ave. Dansville. A Memorial Mass of Christian Burial will be celebrated on Tuesday Jan. 23 at 11:00 am at St. Mary's Church in Dansville.
The family wishes to extend the courtesy of no flowers. Please make memorials to Chances & Changes, A Domestic Violence Program, PO Box 326, Geneseo, NY 14454