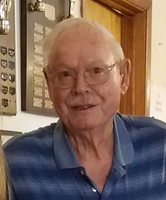 Harold Milton "Gillie" Gilbert
Dansville- Harold M. "Gillie" Gilbert age 85, passed away peacefully early Friday morning January 12, 2018, at Noyes Memorial Hospital in Dansville.
He was born in Dansville on January 2, 1933, the son of the late Milton and Carrie (Thorpe) Gilbert. He was also predeceased by his first wife Jeanene Wolfanger Gilbert and a step-son Donnie Chapman. On September 27, 2008, he was married to June Jamison Andrews Gilbert who survives.
Gillie was a member of the Sparta Center United Methodist Church, a social member of the Sparta Center Fire Department and the Union Hose Company of the Dansville Fire Department, and the Loyal Order of the Moose # 1130 in Dansville. In the 1950's and 60's he worked at Retsof Salt Mine; he then joined the Rochester Carpenter's Union working on projects at RIT & Strong Memorial Hospital before his employment at Eastman Kodak. He retired from Kodak in the early 1990's after several years. Gillie and June were longtime customers at the Java Jungle Restaurant in Dansville, where he was affectionately known as the "Grandfather of Java Jungle"
Surviving in addition to his wife June are his daughter, Donna (Jeff) Erwin, a son, Todd (Elaine) Gilbert, two step-children Deborah (John) Hurst and Dean Chapman. A sister Leatha Wentworth, grandchildren and great-grandchildren, Kaylee, Ashley, Cheri, Gavin, Carrie, Sean, Amanda, Jared, Diana, Shawn, Kristen, Deanna, Jeremy, Josh, Jodi, Justin, Brennan, Claire, Jack, Jenni, Kaden, and Jaden, Brayleigh, Kendall, Jackson and Mason. Gillie is also survived by his puppy dog "Gracie"
Friends may call Monday from 1 to 4 pm at the Hindle Funeral Home, Inc., 271 Main St. Dansville. A funeral service will be held Tuesday at 11:00 am at the Sparta Center United Methodist Church. Interment will be in Kiehle Cemetery, Sparta Online remembrances may be left at HindleFuneralHome.com.
In lieu of flowers please make memorials to the Sparta Center United Methodist Church, 8455 Sparta Center Rd., or the Dansville Ambulance Fund, 18 Ossian St., both of Dansville, NY 14437. "Keep your legs together and don't spit into the wind"