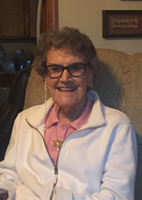 Donna V. Fox
Donna VanDerwerken Fox age, 89, passed away peacefully on December 24, 2017 surrounded by her children and grandchildren. She is predeceased by her husband, Wesley, siblings, Catherine Morsch, Elizabeth VanDerwerken, Clarence, Lewis, Arthur and James VanDerwerken.
She is survived by her seven children: Jennifer Henderson, Patty Fox, Peter Fox, Jackie (Lynn) Pike, Amy Fox, Wes Fox, Melissa (Julie Shoemaker) Fox: five grandchildren Lindsey (Joe) Reecher, John Henderson, Andrew Pike, Alyssa Pike and Jamie Pike, and (soon-to-be-born) great grandchild: sisters Anne Black, Dorthea (Gordy) Derrenbacher and Rhoda (Roger) Wright, Sisters-In-Law Chrissy (Ken) Wright and Tannis (Jim) VanDerwerken, and many nieces, nephews and friends.
Donna loved spending time with her family and visiting friends at her cherished Henrietta Senior Center. She enjoyed reading, music and collecting items like antiques and paper goods. Donna was a kind woman who always saw the world in a positive way. She grounded herself in the belief that family provides the strength to all of life's challenges and the opportunity for all of life's joys; for there is an invisible thread binds us all together.
Per Donna's request, there will be no viewing or calling hours. A memorial service honoring her life will be held in Dansville, NY in May of 2018. In lieu of flowers and cards, a contribution in Donna Fox's name can be made to the Henrietta Senior Center, 515 Calkins Road Rochester, NY 14623.