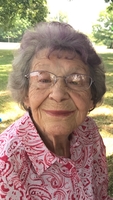 Anna Belle Maples
Dansville- Anna Belle Maples age 92, passed away peacefully in her sleep Sunday afternoon December 10, 2017, at Elderwood in Hornell where she had been a resident for the past two months.
She was born in Mt. Morris on July 17, 1925, a daughter of the late Bert and Bertha (Tuttle) Caton. She was also predeceased by three husbands, Chauncey Rhodes, Walter Dimmick, and Laverne Maples Jr., her brothers Shirley Caton and Elmer Caton, and a sister Lavone "Mickey" Levee.
Anna had many jobs around the Dansville area which included, working at the Castle on the Hill as a cleaner, a nursery attendant and clerk for Kelly Brothers Nursery, a waitress at Mike's Diner, and a nursing home aid for The Kings Daughters and Sons Home. In 2008, at the age of 82, she moved to Apex, North Carolina to be closer to two of her grandchildren. She enjoyed spending time watching her grandson, Andrew, race stock cars, and enjoyed the warmer weather. She loved to watch sports, and was especially fond of the Carolina Panthers and Carolina Hurricanes. She loved exploring the Raleigh area, and she made many special friendships during her time there.
She is survived by her children, Albert (Chan) Rhodes of Thailand, Michael (Karen) Dimmick of Vancouver, Washington, and Melody Dimmick-Howe of Dansville; a sister, Ruth (Tony) Recktenwald of Wayland; three grandchildren, Stephanie (Tom) Whaley of Holly Springs, North Carolina, Andrew Howe of Apex, North Carolina, and Doug Dimmick of Portland, Oregon. Also surviving are many nieces, nephews, cousins, and loving friends.
Friends may call Friday, December 15, from 12 to 2 pm at the Hindle Funeral Home, Inc. 271 Main St., Dansville, where a memorial service will be held at the completion of calling hours. Online remembrances may be left at HindleFuneralHome.com.
Memorials may be made to the Daniel Goho Post 87 of The American Legion, PO Box 306, Dansville, NY 14437 or the Hornell Humane Society, 7649 Industrial Park Rd, Hornell, NY 14843.