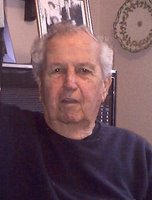 Albert Frederick Maloney
Dansville- Albert F. Maloney, age 94, passed away early Wednesday morning October 11, 2017 at St. James Mercy Hospital in Hornell following a long illness.
He was born in Dansville, NY on June 15, 1923, a son of the late Frederick and Pearl (Cole) Maloney. He was also predeceased by his wife, Norma E. Krog, and his siblings, Harold Maloney, and Ellen Maloney.
Albert held many jobs in the Dansville area, he worked in the Blum Shoe Store, Instructor Publications, and even the Dansville Hospital. He was a Staff Sargent in the Army during World War II. He served as a High Speed Radio Operator in China. He was a member of Post 87# Daniel Goho of the American Legion. He was also a member of the Dansville Protectives fire company. He enjoyed playing horseshoes, golfing, and spending time with his family.
He is survived by his children, Daniel Maloney, Maren (Nick) Young both of Sparta, a niece Barbara Maloney, 8 Grandchildren, several nieces and nephews.
Services will be private for the family, Interment in Rodgersville Forrest Lawn Cemetery Dansville, NY. Arrangements by the Hindle Funeral Home Inc. 271 Main St. Dansville, NY 14437.Online remembrances may be left HindleFuneralHome.com.
In Lieu of Flowers please make donations to the American Legion Daniel Goho Post 87, PO Box 306, Dansville, NY 14437.