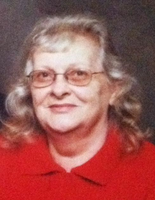 Rosemary Louise Gilmer
Dansville- Rosemary Louise Gilmer age 76, passed away at home early Monday morning September 25, 2017, following an extended illness.
She was born in Wayland, NY on March 1, 1941, the daughter of the late Harry and Margaret (Gross) Peterson. She was also predeceased by her husband, Harold Gilmer, a daughter, Dawn Marie Gilmer.
Rosemary worked at H.B. Cowells in Wayland for 2 years as a book binder. She also worked at the Blum Shoe Factory in Dansville for many years as a machine operator. She enjoyed coloring in her adult coloring books, have yard sales at her house, playing bingo, and camping, fishing with her family.
She is survived by her sons, Harold "Jake" (Karen) Gilmer Jr., Donald Gilmer, and Michael (Linda Hand) Gilmer all of Dansville, her daughters, Kerry (Chip Stanford) Fox of Canisteo, Kimberly (Joe) Towner of Avoca. 12 grandchildren, several great-grandchildren.
Friends may call from 10:00 am to 12:00 pm on Wednesday at the Hindle Funeral Home Inc. 271 Main St. Dansville, NY 14437. A funeral service will be held following calling hours on Wednesday. Interment will be in Greenmount Cemetery Dansville. Arrangements are by the Hindle Funeral home, Inc. 271 Main St., Dansville. Online remembrances may be left HindleFuneralHome.com.
In lieu of flowers memorials may be made to the Fearless Hook and Ladder Fire Company 26 Clara Barton St. Dansville, NY. 14437