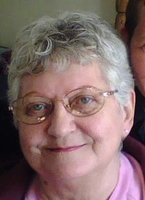 Garri J. Fredereksen
Dansville- Garri J. Fredereksen age 80, passed away peacefully Wednesday evening April 5, 2017, at the Vincent House in Wayland surrounded by her family.
She was born in Wellsville, on August 13, 1936, a daughter of the late Kenneth and Margaret (Oehler) Buccholz. She was also predeceased by her first husband William Howe Sr., her second husband Niels Fredereksen, a sister, Linda (Richard) Garber, a son-in-law David Rogers.
Garri was a past member of the Dansville Presbyterian Church, and the Women of the Moose. She enjoyed reading, knitting, crocheting, cooking, visiting flea markets, spending time outside, and most importantly her time with her family and grandchildren.
Surviving Garri, are her children, Jacqueline (Dana) Rogers Neu, Betty (Cody) Capozzi, Bill (Melanie Cooper) Howe, Laurie (Kimberly Wildman) Howe, Cyndi Gardiner, grandchildren, Gary Rogers, Jonathan Rogers, Renee' Howe, Joshua Howe, Ryan Howe, Billy Howe, 7 great-grandchildren, and several nieces and nephews.
A funeral service will be held Tuesday 1:00pm at St. Paul's Lutheran Church Dansville. Interment at a later date in Greenmount Cemetery Dansville. Online remembrances may be left at HindleFuneralHome.com.
In lieu of flowers please make memorials to the Vincent House 310 Second Ave. Wayland, NY. 14572